Mikhail and Naina
, heads of Bonweddings wedding agency (Moscow)
The path from the real moss, where heavy smoke, transparent podium, bright and unusual plexiglass flowers, transparent balls with animals from Bosch's painting and the sounds of fairy-tale forest – all this helped to plunge the guests into the magical atmosphere of the wedding based on the works of the famous artist, Hieronymus Bosch!
"In the first month of preparation and close interaction with the couple we learned that the guys love art, especially artists of the Renaissance. Mikhail's favorite artist is Jerome Bosch, who attracted the groom with his mystery, love of detail and symbolism in his works (in our opinion, a perfect combination of features for any wedding decorator). And one of Michael's favorite paintings was the famous Bosch triptych "The Garden of Earthly pleasures", which we proposed to take as the basis for the wedding concept
The concept is based on:
Mysterious, strange, mythical plants and animals with their inherent symbolism;
Partly "psychedelic" flowers, colors and shapes;
Dynamic light elements as a reference for transitions from one part of the triptych to another.
Invitations were also made in the format of a triptych: a folding postcard consisting of three parts with elements specific to the chosen concept
We chose the dress together with the bride for a long time and carefully, because under such an unusual idea just a white dress did not fit. As a result, the choice was made on the silk dress of A-silhouette Lily by Rara Avis from the Floral Paradise collection. It contains everything: color, texture, fairytale elements and inclusions of plants and animals, and at the same time they are not bright, with a light dish and a touch of mystery.
In the ceremony we focused on mysterious, slightly psychedelic plants and flowers, as well as fairytale animals framed in unusual shapes from the canvas of the artist. Plexiglass, neon and multiple illumination revealed the idea in the best way, allowed to convey the necessary mysterious atmosphere and visualize the conceived.
The task of every detail at the banquet is to support the concept and overall style of the wedding. Therefore, there were many transparent and airy elements in the hall (tables, chairs, back and table for the presidium, tables for buffet dishes and interactive stations, seating plan for guests, etc.), a lot of greenery and plants (both real and drawings in the decor and on the back of the presidium).
Double worktop metal tables were specially designed for this wedding: the bottom part as a basis for moss and greens and the top transparent part for serving with the possibility to see the bottom part. Butterfly rings were used as napkin rings. Huge fairytale flowers were also used to support the wedding concept and the stylistic line of the ceremony.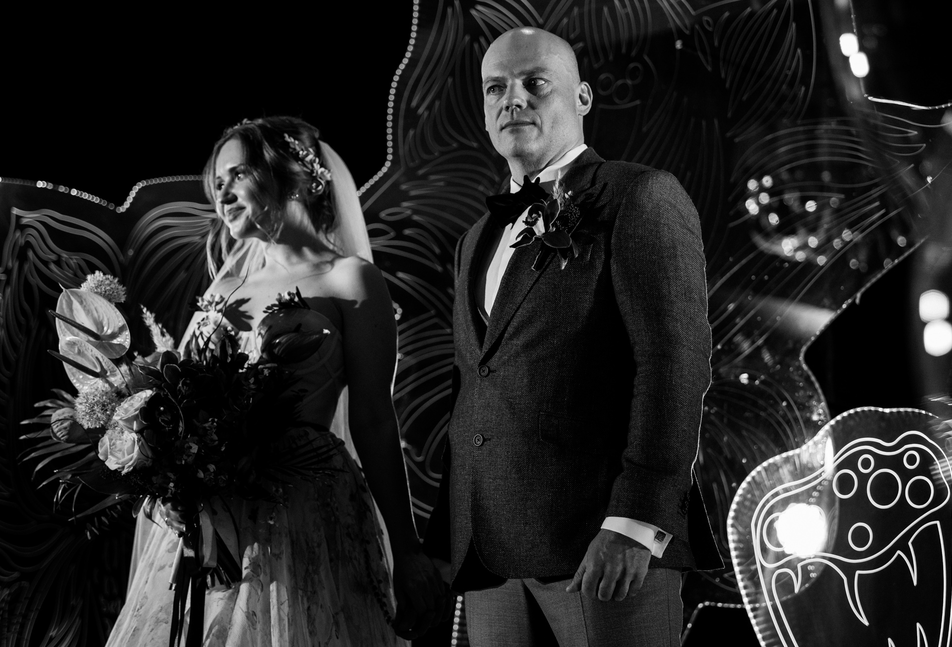 A garden of earthly pleasures. The groom, the bride and Jerome Bosch
Organization, concept, decor: Bonweddings wedding studio
Moderator: Andrey Neginsky; Photo: Artem Vindrievsky; Video: Roman Khlyustov; Florist: Irina Zakharevskaya
Caverns: Modal; Technical support (sound, light, special effects): Daudio; Cake: "Try"; Site: Silk banquet hall
</lang="en">