<lang="en">
Alexander and Julia. Citrus wedding
Wedding 16 August 2018
About us.
We met on a dating site. I did not really believe that you can find a person on the Internet with whom you can have a serious relationship. Having received a dozen "strange" messages, I stopped going to the site and almost forgotten about it. As I once received a letter from Sasha. I started correspondence, and after a while we were already walking around the Moscow zoo. I agree, for the first date a non-standard place, but there is something to remember and on what to smile.
Once Sasha gave me a phone for my birthday. "Why do I need another one? – I thought, but not to offend my beloved, with a smile took a box of gadget. For some reason Sasha insisted that I immediately open it "to check if everything is okay. Something flashed inside and I realized what was going on))
Preparation. Location selection
It would seem easier to be husband and wife. When everyone wants it. But this is just the beginning of the story. It was his first concession – our wedding, its solemn part, will be held in Voronezh. Closer to my relatives. There are a lot of conditions and the ground should correspond to them all. August. We need space, several comfortable places where guests can spend time. Both before and after the ceremony. Another condition is that our loved ones should be placed in such a way as to wake up fresh and ready for new adventures on the morning of the second day.
10 potential sites and just one day to get around them all. Tight working schedule. We had to make do with it. Our first list: Apraksin, Artist, Ivanovo Lake, Forest Tale, Oblomov and other places. One of the last places was "Taiga".
The decision was made instantly and unanimously: "What we were looking for!" However, the planned date (Saturday 18th of August) was busy. We gave up on it and postponed the wedding to… Thursday 16th. And what, they say, that on weekdays many experts do discounts, so there is no silver lining without good!
Contractors
I am a rather sociable and organized person, I am obliged to do this by my profession (I work as a producer on one of the federal TV channels), so I did not put the choice of specialists on the shoulders of others, but decided to pick up the team myself.
It wasn't supposed to be a pattern wedding. We believed that the holiday could be unique. And we realized that we were not mistaken when we found Maria Rogach (studio "My All"). This is just an unearthly girl with a storm of unusual ideas in her head and her unique vision of beauty. She was online 24/7 and many times helped us with valuable advice on a variety of issues.
We searched for a host for a very long time, having searched more than one dozen candidates. Someone did not look like the price, someone – the style, appearance, sense of humor, but God knows why, just not. And here's one phone call. Denis Nazarenko is on the other end of the wire. Active, cheerful, cheerful and, what is important, did not try to surprise us with prepared jokes from the arsenal of any leader. Having called and talked to Denis, we decided that the question with the presenter was solved.
What we knew for sure about our future wedding was that we would have the best music! We studied the information on the Internet and realized that in Voronezh, fortunately, there is no problem with it. We chose the band AMORE – it's male and female vocals, united in a great musical duet. We had no time to discuss the repertoire and it all came down to one phrase: "Let it be fun! As a result, they filled the evening with wonderful various hits in an incredible performance!
In the Welcome area, it was decided to set up a snack table and bar. Finding a good bartender in Voronezh wasn't easy, so we were very happy when we got to Igor Protasov. He bribed us with his responsible approach to the case, offered six possible options for alcoholic menus to choose from, calculated to the nearest gram of lemon and other ingredients. Everything went well on the day of the wedding.
Anna Rajabli, our wonderful photographer, deserves a special curtsy in her wedding dress and the most enthusiastic epithets! She seems to have become another bridesmaid. She did not let the camera out of her hands, and at the same time managed to give valuable advice, to calm down and raise the spirits of her incredible charisma! Very energetic and easy to communicate person. We definitely recommend it!
Advice
When looking for contractors, communicate more with candidates in person. Look for proactive, interested people, then they will do everything for themselves, without any extra words, and even beyond what you asked for.
Wedding style. Decor
When we got ready, we had a vague idea of our wedding. We only knew that it would be easy, summery and crowded (about 100 guests were expected). Masha helped to define the concept of decoration. She sent us a few collections in different styles so that we could decide which one was the closest to us. We were attracted by the photos with bright citrus fruits in the design, we thought that such colors would be just right for the natural greenery of Taiga, and the very idea of using fruits in the design we really liked.
So, it was decided – we will have a juicy, delicious citrus wedding!
It was the soul that was felt, not the attempt to formally fulfill its duties. This was the desire to create a harmonious picture. Masha insisted that in the gazebo, where registration was to take place, the carpeted paths were covered with a lawn covering, which was more suitable for us in style. She took care of all the little things I wouldn't even think about, like the decor for the morning photo shoot.
Wedding images
God, it's hard to choose a dress that you only want to wear once in your life. I bought mine at the Mary Truffle salon in Moscow. Light, airy, it seemed to me that it would fit our style well.
Council
When choosing a wedding dress, listen to your inner feelings. First of all, you should be comfortable in it, and in second place – the beauty, quality of the fabric and other aspects.
Finding the right suit for Sasha, even in Moscow, was a problem. Men's beauty is special and always unique beyond what I would like it to be. We were helped by Cacharel shop – we bought everything from socks to cufflinks here.
Happy Thursday.
The night before the wedding. Mandrage, wide open eyes, dozens of questions and so few answers. We spent it with Sasha. And the first ten guests, who were very helpful in Taiga 24 hours before the wedding.
Time is running out. I barely had time to fall asleep, and at 6.00 a.m. I am already awakened by a stylist to do my hair. It will take only an hour and a half, I will not have time to breathe, as a make-up artist will appear to complete the image.
By the way, both specialists are my friends, and therefore were among the guests. We repeatedly rehearsed with them make and hairstyle, but each time something embarrassed, and on the day of the wedding everything went perfectly, which is called "caught in the mood"!
By 11:00, when I was in perfect shape, Anja (photographer) came along with her assistant Bella. Especially for the morning shoot, the decorator Masha prepared a basket of fruit and lemonade. We changed into men's white shirts and… In general, these pictures will remind us of the happiest morning for a long time to come.
Then we went to Ramon, to the abandoned houses. This is an interesting quiet place with a special atmosphere, all these dilapidated buildings, overgrown with ivy. This is the essence of the unity of nature and man.
Not far from there, right in the open field, I wore my wedding dress for the first time on that day, but it was also a sight for passers-by!
I always wanted to be photographed in the hayloft, and when I suggested this idea to Ana, she was very enthusiastic about it: "OK! We'll look for it!" And we did! Of course, we lost a lot of time, were late for the ceremony, almost lost our teeth, shaking on the field off-road, but now we have these amazing photos! By the way, thanks a lot to Ana for lent us her straw hat – it was a great props.
What happened behind the scenes was reported to us over the phone. The scorching sun was competing with cold cocktails. The guests were looking forward to it.
Our host, Denis Nazarenko, was the host. We initially warned him that we didn't want tears to flow at the ceremony, and he prepared a great speech: concise, touching, humorous.
After the ceremony, the presenter gave us 15 minutes to talk to the guests and take a picture in our wonderful photo zone (which Masha later moved from the rotunda to the restaurant entrance).
And right after that everyone went to the banquet hall, at the entrance to which parents met us with a traditional caravan.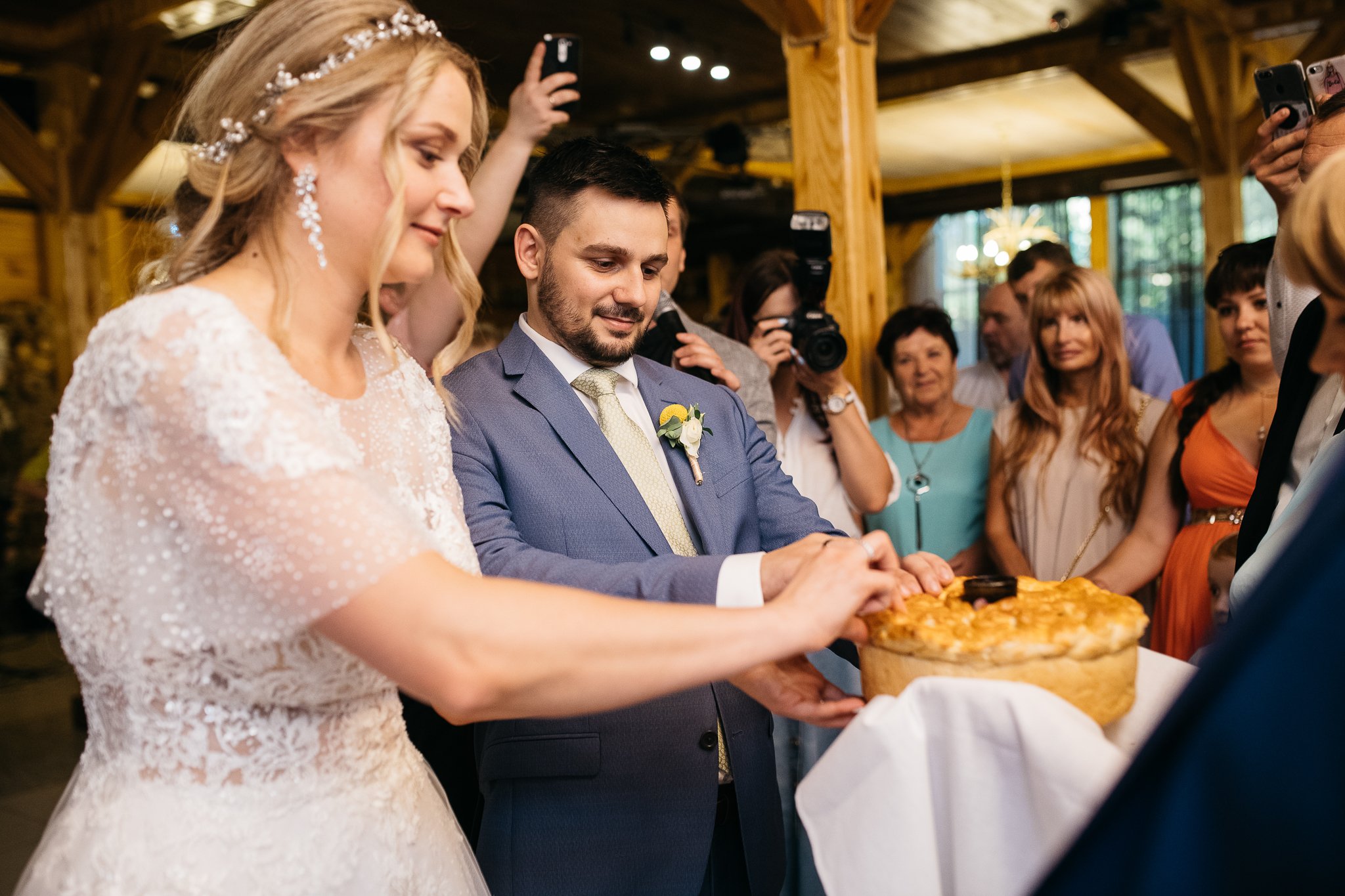 The banquet flew by fun and fast. Denis was brilliant, but the main thing was that he did not overshadow those who were organized for the sake of all – Sasha and I.
That was OUR LOADY. He asked us in advance to give a brief description of each guest (interesting memories, jokes, little secrets) – this information, combined with a fair portion of humor, allowed everyone in the room to be on the same wave.
The AMORE duo provided magical music. And when the agreed time was up, we didn't want to let them go, prolonging the time for another hour.
And they were ready for it!
The bright spot of our evening, or rather a thousand shiny dots in the night sky was the fireworks from the agency "Carnival". We talked to the organizers just one day before the wedding, and we did not have the opportunity to discuss everything in detail, so we just asked them to make a decent pyrotechnic show. And they did!
Turns out the fireworks were just a comma. Everyone wanted one thing – to extend this bright holiday, so we returned to the hall and continued enjoying the charming energy of this day – our lucky Thursday.
Afterword
We were wondering if we should have a big wedding at all. Maybe it's better to take the money and go somewhere to Cuba… And many friends shared this opinion: "Wedding? Why do you have to do all this? So much trouble!" But when it all went away, the guests changed their minds, and we were thankful for this holiday for a long time to come. In the end, we will always make it to Cuba, and the chance to play such a wedding falls once and we are glad that we did not miss it.
</lang="en">