About us.
Max and I met at the bar where he actually works. I started to visit this place with friends a lot. Communication as such did not add up until a special occasion. Max was an intern, and while I was sitting at the bar, he failed to drop the dishes in my cocktail. Maxim apologized, took the initiative, reworked the cocktail, and placed me completely in his room. We met for two years, and so, at another unremarkable dinner at the restaurant, Maxim asked me to marry him. I never dreamed of happiness anymore. I said yes and we started to prepare for the wedding almost immediately.
Wedding idea
We knew exactly what we wanted. This is a cozy outdoor chamber wedding. With dancing, buffets and other niches.
Simplicity, style and minimalism were our motto.
We wanted to spend the day with our closest friends and family and have a great party with them.
Tip
Start getting ready for your wedding in advance. In two months, you'll hardly find the right specialists and the perfect venue.
Location
That's where the first difficulties were with the choice of location. I thought I could handle the organization myself, but I soon realized that I was so wrong. Initially I wanted to get married on the summer ground of one of the restaurants in the park park, but, unfortunately, they couldn't clearly answer the question of what we would do in case of rain. That's why they left this idea at once.
Council
When choosing an open location, think about the weather. Of course, this isn't a problem, but if you're impulsive (and so am I), think about "retreat paths".
Then I thought about finding a cozy country mansion and spending a few days there. However, I could not find such a place. Then I thought I needed help – I went to the wedding agency "Karuna". The girls offered many options, but we stopped at a pontoon gazebo in Taiga! I immediately realized that it was an ideal location. Our 30 people will fit in there, and we will shove the band in, and there will be plenty of room for the dance floor as well. Well, no wind and rain are not afraid of us, if anything!
Council
Contact the wedding agencies. Do not be afraid of this. Usually, there are professionals working there to help you find the best professionals to help you on your wedding day with the entire organization.
Decor
That's what I wasn't worried about, that's the decor. My best friend is the best decorator in the world! She and I discussed what I wanted and that's all! She and her husband did everything perfectly! Even better than I expected! We had several zones: the Velkom zone, which was also a photo zone – a structure with stretched ropes and clips, where guests attached instant photos to the polaroid. There was also a kendy bar and drinks (lemonades, champagne, juices) in the same area. Everyone was hanging out, drinking and taking pictures!
And three, the main one is the registration area. We also threw old carpets on the ground and brought bales of hay so that we could sit on them. I think there was a mixture of styles: boho, IVF, rustic, but it looked super!
Tip
Choose the decorator carefully. Look through a maximum of works on wedding portals (good now there are a lot of them), draw in your head about that you want and in detail discuss all this with the decorator. I'm lucky, but I know a couple of examples, when the pursuit of savings ruined the whole wedding.
I'd like to say a few more words about why #wedding in the middle of the night. First of all, the film is a very cool and stylish wedding, and secondly, we really wanted the registration to be in the twilight, smoothly flowing in the evening, so Ira (decorator) decorated the area with light bulbs, which created an extraordinary comfort!
Selection of specialists
The girls from Kharun's agency were very helpful here, too. We initially decided that we wouldn't have a presenter and took Sasha Karuna herself as a wedding registrar and entertainer.
We had problems with the band. At first we chose Bali's band, I really wanted these guys, but just a couple of days before the wedding they wrote to us that they were in force majeure and they couldn't. I think we were saved by the fact that we had a wedding on Thursday (which, by the way, is very convenient in every respect).
Tips
Choose a weekday. We had Thursday. Very convenient, as almost all the specialists do a very good discount.
We wrote to the guys from Mojave Band and they agreed! Oh, a miracle! We are saved. I think that everything is done – not by chance – they are Mega cool guys! I didn't regret that they were playing with us. We were rocking hits as if we were on our way to hell (Highway to Hell, AC/DC became the official soundtrack of the event).
I'd like to say something about the photographer separately. Max Shvyrev is the best photographer. Of course, initially we chose from several photographers, but after a personal meeting we realized that it was HE! We are on the same wave. Maxim is a very creative person and a great photographer. His photo style was perfect for our couple. In fact, we were just walking, hanging out, fooling around, and Max was doing his job. It was very comfortable and fun!
Council
Take your choice of photographer very seriously. This is the main man at your wedding! Really! In his hands the key to success of the day.
Images
I bought the dress at Mary Truffle. I didn't want to spend a lot of money on it, and you can find a dress for every taste and wallet in this salon. They also have shoes, jewelry, and boudoir dresses, so they're all "turnkey" for the bride. We were very lucky to have the costume – we ordered it on Assos, it arrived, tried it on – perfect! We didn't even have to sew it!
The image of the bride was created by cool girls – Natalia Dekhanova and Olga Salnikova – they were also recommended to me by girls from the agency.
Council
Do some test hair and makeup with a few professionals. This is very important, you should understand how you will look on the best day of your life!
Registration
I always knew my dad would take me down the aisle. It was so touching that even now I'm crying…
Check-in was next to the pier on the riverbank, at dusk… it was very simple and touching. We exchanged rings and all our friends congratulated us with hugs and kisses.
Why the buffet
The buffet idea came to our mind almost immediately when we started thinking about the wedding. Or rather, it is not even an idea, but a "peek", saw a couple of buffet weddings and realized – this is our format. No sitting at the table with tiresome toast, no dairy piglets on the kilometer-long tables, no boredom! Only a breakaway! Of course, there were doubts about grandmothers and parents, but it turned out to be in vain) For backup, we put chairs almost all over the perimeter and for grandmothers and all who wanted to rest. The guests moved freely, talked, danced, ate, "zoned" at their discretion (of course, mostly around the bartender)).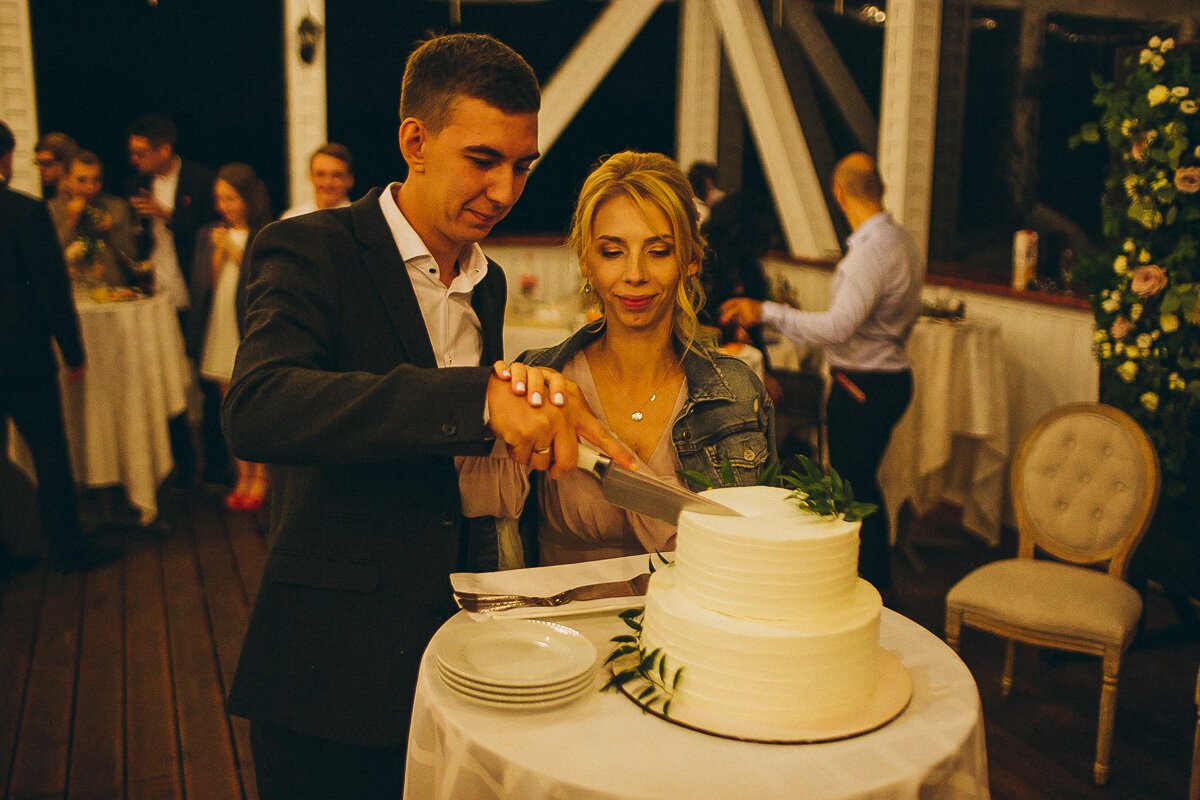 To sum up, if you want a chamber, easy, mobile, lively wedding, a buffet is what you need!
After-party
The wedding is fun and exciting and, of course, all the guests want to continue! Our guests warned us in advance that they want to stay until the next morning. We have ordered a big house for them, good, in Taiga there is such an opportunity. The house was very convenient – after the celebration we moved there and hang out in a more relaxed atmosphere. The next morning we shared our impressions and sunbathed on the beach.