Maxim and Anna. Winter fairy tale
Wedding 13 January 2018
About us
Well, where did the wedding people meet? That's right! At the wedding. It happened in winter, and it was my first or second wedding, I think. Well, classic. I'm a photographer, he's a videographer. We hung out together all that time, then he took my phone, and a week later, we couldn't get along without each other for a day.
We've been going a long way to our wedding. About five years. And so on January 9, standing on one knee on the Charles Bridge in Prague, Maxim proposed to me. I couldn't have imagined a better place!
… We're completely different, and we complement each other. I'm his fire, he's my water. Our weekdays are your weekend and vice versa. We're on the set from Friday to Sunday!
About the idea of a wedding
"Annie, why are you doing this? Would you rather go somewhere with that money? 70 people?! Wow! "There'
s been a lot of questions. Misunderstandings among colleagues, too.
"How come you're filming weddings?! You should be sick of this by now!"
I was just smiling to such people, but I felt sorry for them inside, and thought: "Why do you still work at weddings, if you are so depressed by the brightest holiday?!"
And now the answer is, why did we make the wedding, and not roll all the money to the resorts.
A wedding is a family reunion party! This is almost a unique opportunity to introduce grandparents, relatives and friends. And it's all in an informal setting.
The wedding can also be a family wedding for 70 people (as we did). We had the closest people at our party. Everyone was afraid of this number, but everyone was so well positioned in the hall that there was no feeling that there were many of us.
When we invited guests, there was one rule: we call the closest ones, we call those with whom we really communicate today! The most expensive. And yes, there are a lot of them, but without them it would have been incomplete.
One more rule that might not work for everyone. We didn't have a purpose to throw dust in our eyes. There weren't anybody we wanted to show off, prove something to. I didn't want Masha to be jealous of my dress, and Kolya was shocked by the air gymnasts, and Mario would tell the whole of Spain that we had a hand bear. People were in charge. And they were supposed to be comfortable and easy.
I'd like to add a few words about the young people's table. I think it should be separate, but not on a pedestal.
Council
Please don't separate yourself from the guests. Don't put yourself above them. Communicate with them. They want your attention. Believe me!
We've only been sitting at the beginning of the wedding for 10 minutes. The rest of the time we were either standing or dancing or approaching guest tables
Wedding in the winter? Are you kidding me?
We picked a date quickly. There were only two options: November 25 or January 13. It's just that in other months, we're in the middle of weddings, so we're obviously not up to us. Between these two dates, the post. I don't keep my posts, and I don't think it's a big deal to play them at a wedding. The only problem is that my loved ones are observing them. So that would be disrespect on our part for the guests.
Why Saturday? It's easy here, too. It's a convenient day. But if I had a wedding planned for the summer, I'd definitely choose Sunday. After all, you can choose all the contractors in 2-3 months, not a year! Plus the next day you can take a day off and spend the day together and relax. And you're definitely gonna need this. You'll be under a lot of stress all week before the wedding!
Council
If you chose Sunday, fine! Ask for discounts and gifts from contractors! But the main thing is, remember your friends and family, because the next day many people go to work! So it's better to start the party early.
Winter! I hate winter! The only reason I did this was because of the snow. But it wasn't there until January 11th, and I've already accepted the fact that there will be dirt. But that didn't really upset me
I wasn't worried about much, except to make my guests feel good. I only sacrificed them for 10 minutes to register, but it was worth it. It cost 100%! Foreigners from my wedding threw pictures into sunny Spain, and they fucked up our courage and beauty of everything.
Council
If you decide to get married in the winter, it's cool! Warn guests to dress warmly and make sure there are warm drinks
We had mulled wine, alcoholic and non-alcoholic.
Well, that's the most important thing! Don't be afraid of anything. No weather can change the emotions you get that day. Just try to remember them!
Dream dress
If you open my phone, the next day after the photos of the offer there are dresses. Dresses dresses…
I didn't know what my wedding was gonna look like yet, but I knew I was gonna have a cool dress. I loved what St. Petersburg designers did. But it seemed absurd to me at the time to go to another city to get a dress.
Well, that's it. You're the bride! So the first thing on Petrovsky's hill is the wedding salons. I think we've got about 50 of them there. Of all the things I've seen, I liked one thing! One dress! But my girlfriend bought it, and it was the right thing to do, because I have cool pictures of her wedding in my portfolio, which seemed more important to me at the time.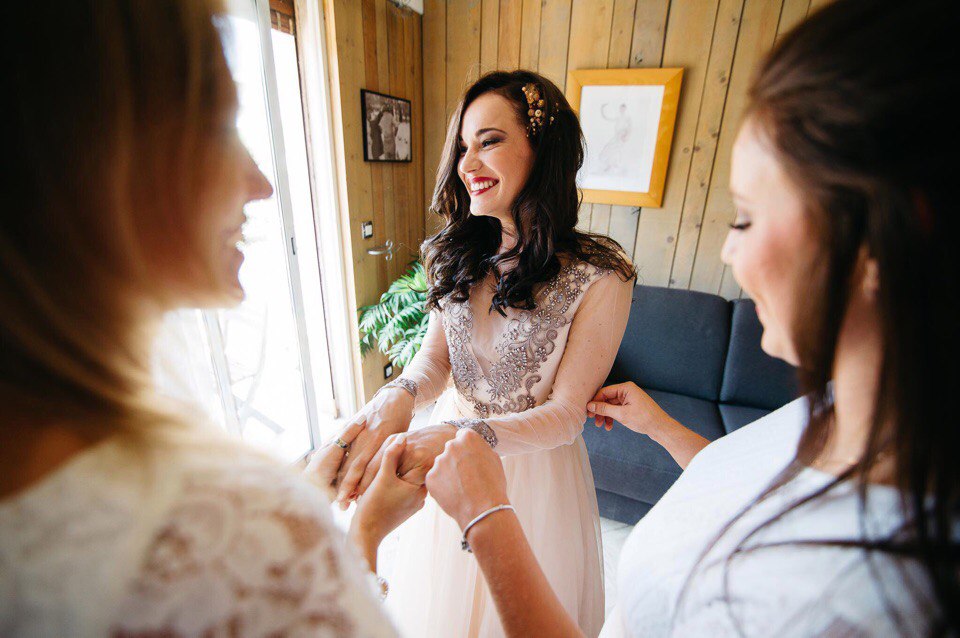 In the summer, Max and I went to Peter for his work.
When I quit, I started calling those salons whose creations I once saved on the phone. I've been running around Peter and measuring everything in these salons. And almost everything I liked. These textures, lace, lightness, fabrics, colors (not only white and quirksands). The concept of smoky blue doesn't make any sense to our salons.
The decision wasn't easy, but by dropping off the options for the entire beautiful half of my family and friends, I ordered a dress. It was modified, which caused a lot of doubts. But the dress is ordered, and wait for sewing and shipping for three months.
And here it is, a package from those very cherished Piondress. Printing was scary. And measuring is even scarier. But it was the ideal color that I could only imagine and explain on my fingers at the time of fitting
The "that's not the right dress" stage, of course, was. Until the parcel is received. I even had one hysterical attack.
The costume
Now about Max's suit. We're both wedders, so the choice was difficult because we're just sick of some things. So we're sick of blue suits. No, seriously. Why did all the stores suddenly decide to sell only blue suits?! All the stores have 50 shades of blue. And you can choose blue or blue, "if you're so extravagant, I mean bright blue!" The question is, "Is there a blue suit?" – …is shockingly shocking the salesmen, and they're cramping their pantry.
There was, of course, an option to find the black one. But black for a wedding is stylish, but still not very festive. And when you can't dress like that at a wedding, you can't dress like that every day?!
And here our friend Yulia Luneva advises us not to suffer, but to order a costume through the Internet. To be honest, I'm a coward and I've never ordered anything but phone covers with Ali. And here's the suit for the wedding! But Julia told us all about everything that might suit us, costume brands and shops, where you can order all this and how not to make a mistake with the size.
It's settled! The costume is selected and ordered. The package arrived quickly and he was perfect, and Max was as happy as an elephant. After all, we, firmly in the heart, were already ready to buy a black Hugo Boss in GCH for 60,000 rubles ((But we came a real Italian costume with hand-woven wool with Yoox, which cost us 16,000 rubles! And he looked a lot funnier than the famous brand.
A little bit about professionals
Of course, it was easier for me – I'm friends with everyone who was helping me in everything, but I know that only some specialists (fingers in Voronezh to count) have good relations with the young people after the wedding. And I think it's great that these people do. It's always nice to deal not only with pros, but also with people! I'm sure you've had some "best dentist of 2018" in your life, but a man just shit, sorry. There'll be a list at the end. Write it down! They're the best!
I would like to tell you about each of them, but I will mention only the most important and useful details.
Photographers
I believe that every professional can give away a few photos within a few days after the wedding. And if your photographer does that, you're super lucky (I do that), because you want to share these unforgettable shots in the first few days. As long as the emotions are at their peak. Then you will enter the usual track, and of course, the photo will please you, but not in the same way as in the first days, when you want to bother passers-by on the street and poke them with their gorgeous wedding photos.
Video
Honestly, I didn't always understand why it was at the wedding. And she gave preference to photos. But after our video, I realized that this is what our wedding wouldn't be complete without. And no, we're not rubbing our noses against each other in the Red Sails' bushes. It's got our guests on it! Our family and loved ones. And in this video they will always be young, healthy and, most importantly, alive!
Decoration
Some of my young people said, "Our wedding was great, but I've pumped up the decor. My advice to you.
Council
Don't trust anyone blindly! Of course, decorators have a taste, but it can be very different from yours. If the decorator doesn't keep in constant contact with you, it's bad! If you don't know what flowers and candles will be on your table, it's bad. If you don't know what your wedding arch will look like, it's a disaster.
And how many times has it been so that the client is shown one thing and gets a completely different one.
I didn't have a problem with that. I knew what I wanted, I could get it to the girls, and I got a great result! But I haven't talked to anybody as much as I have with decorators!
Our day
There's a very important man to celebrate here. WEDDING COORDINATOR. If they ask me why he's here, I'll just say, "Well, you don't want your wedding to be a disaster. I don't know how to describe everything she did, but her calm voice and super ability to solve all the problems seemed like a fantastic combination to me. And there were problems. Everybody's got them all and always! And I probably didn't know about half of them.
The chronology of the day was perfect for me. I woke up at 9:00! Make, hair, breakfast with your girlfriends. Then a little photo shoot with the girls at the hotel.
Max had his own time with the boys (here he is, the moment he needs a second photographer).
Check-in at 4 a.m. and 5 banquets (guests arrived for check-in). It's simple and easy for no one. There was no walk on the schedule! Noticed? My dream, my fiancé's good mood and calm were more important than a walk in the park. By the way, we met only at the altar, which was very symbolic, pleasant and cool, in my opinion. And it was decided to postpone the walk for another day. Because I'm still planning on wearing my dress.)
Registration
Well, it's not without surprises. We haven't hired anybody from the registry office with a clear speech that we both heard a hundred times. The registration was done by a close friend of ours who knew everything about us. It was so touching and enjoyable that I can't even imagine what would have been different.
Banquet
I've written before that I didn't have a purpose to surprise anyone. We had a presenter I just told: "Burn, burn! Do as you please."
At the beginning of the evening, we made a conveyor belt of guests who came up to us, said a few words, gave us flowers and gifts. The host officially gave the floor to parents and grandparents. The rest of us talked into the microphone if we wanted to. This format was very convenient, as guests did not get bored listening to treatises and poems from the Internet. Some of the guests came in person during the evening and wished from the heart, alone. After all, you must understand that not everyone will be able to say something not learned in the microphone in the hall, where 70 people and cameras.
We had a rug band. And that was one of the most important right decisions. Live music will never replace recorded songs. This energy, it's just a thrill!
Out of tradition
I wrote in the invitation that we wouldn't sell or buy anything. I didn't want my guests to feel uncomfortable when they were trying to take away their last money for cake. Maybe not everybody's ready for it Actually, I don't think it's pretty. Well, maybe it's just my prejudice.
From the traditions we had, we threw a bouquet and a garter
Dancing the first dance and dancing with Daddy.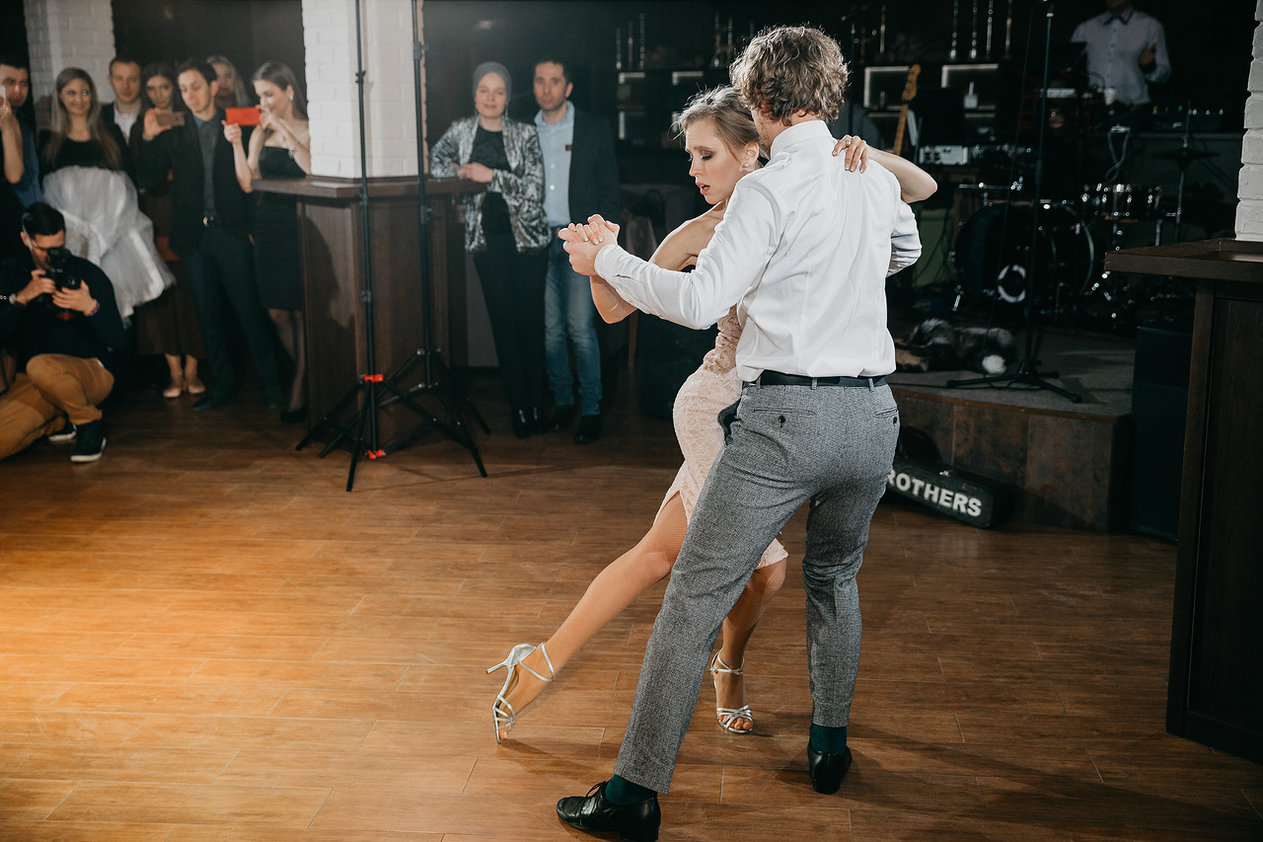 I guess that's it.
In conclusion..
The wedding is certainly an important event for which you will be preparing for a long time. But it must go easily and interestingly. I think we should start by deciding who you're getting married to. If for yourself, it is one format, and if for the family and friends, it is completely different. Don't try to surprise anyone. After all, the most surprising thing is the feelings and emotions that people will experience at your party, and the presence of artists and even invited stars does not always solve everything.
Council
Don't go after fashion. She changes every year. Be yourself, and then everything will work out and work out.
ding Inform)
</lang="en">