Alexei and Anna. Among the mountains…
Wedding June 15, 2018
About us
We met at work, and we work for the same company. Lesha came to me as a leading programmer earlier, and I had worked as an economist before, but decided to change my profession to a programmer.
When exactly when we started dating, even now, we're still finding out But most likely it was like this: before the first joint business trip I decided to find out what was going on and offered to drink coffee. We went to Mona after work. Eating desserts, drinking coffee, talking, joking. It felt like we'd known each other a long time ago.
Offer
Let's go snowboarding in the mountains to Krasnaya Polyana, for Lesha it was the first trip to the mountains in order to go for a ride. And it just fell on February 13th is a memorable date for us. In the midst of the ride on one of the picturesque slopes Lesha stopped, I sit next to him, Lesha says very nice words, I begin to suspect, and then he pulls out of his pocket a box with a ring and asks the same words "Do I agree to marry him? Tears, mountains, trees, snow. Of course I said, "Yes, I agree." It was very nice and unexpected for me.
The idea of a wedding
We are both not the fastest decision makers, and we have decided to approach this case very thoughtfully and seriously. After talking to friends working in the field of wedding management, we realized that there is a lot of attention to be paid to the preparation, especially given that we work hard enough, and there is not much free time. That's why we moved the wedding to next year. And in a calm environment, they started to prepare.
Having reviewed a lot of photos, I liked a lot in modern weddings – they were so beautiful, cozy and interesting. But, of course, I wanted something about us. The idea for inspiration was the rings with mountain peaks and an arch in the form of mountains – it was in the mountains that the words of the covenant were said, we are both amazed and fascinated by the mountainous terrain, the towns located in the gorges, their atmosphere.
Place
The place of our "mountain" wedding was chosen as the place of our "mountain" wedding "Jerzy" country complex. A total of 45 people were invited and almost everybody had to stay with us on the second day, so we bought the entire number of rooms at the camp, turning it into our little cozy "mountain hotel".
Specialists
When it was time to choose the specialists, it was decided with the photographer at once. I knew Maxim Shvyrev a long time ago and followed the development of his work in social networks. Live photos, lights, details on them, I want to review over and over again. The choice of decorators has already been made, and, having talked to Maxim, he confirmed – the workshop of cozy weddings "My All".
Host Denis Fedunov, we've noticed for a long time now, he once hosted a corporate event. To get acquainted with our couple, Denis prepared a questionnaire with a number of questions and knew almost everything about us by the day of the wedding. So even parents were wondering "whose side was this friend from?" So personal was his speech.
We entrusted the organization of the banquet and buffet to Kuhmister, a young but very talented team of cooks. We used to address Ruslan at Bezmelnitsyn's before – he was cooking dinner for our friendly company for Lesha's birthday party. We liked everything then, so we decided quickly on the choice of a catering company.
Mohave Band gave us 1.5 hours of musical drive. The guys are on fire! Special thanks to them for the excellent performance of my favorite song from Guru Groove Foundation "My Golden Love".
The decor. All over the mountains..
So, the idea of the decorators was to give the space of the camping site the spirit of the hotel, located in a small mountain village, and all the design elements were made in line with this concept.
The first idea about the future celebration guests received from the invitations. They were designed by an artist and designer from My All. They depicted snow-covered mountain ranges with rare Christmas trees. And two more funny hedgehogs – we always had a special attitude to these animals with Lesha, and we are happy owners of this cute spiky animal, and the name of the camp did not leave any other choice.
The territory of the base was divided into several thematic zones. To begin with, the guests got to the hotel reception desk, where they had to check in, after which they were given a card and room keys. The reception desk was decorated with a red disc phone, black and white photos (ours and parents' photos, which symbolized the peculiar connection of times). There was a seating plan and a camping site layout.
There was also a box of salty caramel at the reception, which we gave as a sweet compliment to our guests, and a basket with plaids in case of a cool breeze. We ordered caramel in the confectionery SUGAR bakeshop (where the cake is located), and the decoration was done by our decorators, they wrapped each jar in a bag, tied a wooden spoon and a thank-you inscription, it turned out to be a nice home-style present.
I registered the first guests myself, and then this was done by a girl from the team of Kuhmister, with whom we agreed in advance.
There was a table with a gramophone next to the registration area. Here the guests could take an instant photo and leave a thank-you note in the wish book.
What kind of tourist village would do without a street market with groceries?! We had a Food Market. Cooks from Kuhmister have placed a lot of original appetizers and desserts here. However, the photos will speak for themselves.
The bartender spoiled the guests a little bit with delicious cocktails.
Speaking of drinks, I can't help but remember our beer car – they found an idea on the Internet and caught fire with it. We decided that the optimal volume of bottles would be 0.33 – enough to cool down, and the drink will not have time to warm up or suffocate. But it turned out to be a big problem to find enough beer – everywhere we were offered no more than a few dozen, and it was estimated that eight boxes were needed! Someone advised us to look at the Fix Price, we went around a few points and have already depressed, when suddenly in one of the stores we were lucky, we were just under the delivery!
The car was provided by decorators, the ice was provided by Kuhmister, and here it is, cool and appetizing, already adorns our welcome-zone!
Of course, I can't help but mention the decoration of our ceremony and banquet hall.
I saw the mountain arch in Pinterest. Showed Masha. We considered several options, but came together on three wooden mountains with snow-capped tops. The road to the arch was decorated with old carpets. It's so bohemian.
The banquet hall was decorated in a very unusual way. Let's start with the fact that there were no traditional flowers on the guest tables. Instead, Masha placed installations made of materials typical of mountain tops: snags, stones, florariums with moss and succulents. There were so many candles, that Masha gave them such a texture that it seemed as if they were made not of wax but of old stone.
Table numbers and seating cards were made on boards, of course, in the form of snow-covered mountains – after the banquet, everyone could take them for a memento.
The main feature of the newlyweds' zone was the multi-layered "mountain" ass. At Lesha's request, the decorators decorated him with retro garlands. The table was decorated with beautiful flower compositions in snow-blue scale with addition of dried flowers.
What is surprising, many elements of the decor were collected and painted on the spot, right on the day of the wedding! But everything was done so quickly and smoothly that we could only enjoy their professional work!
Our images
I came across a dress from Leo&Kate Studio and decided that I only care about them. I came to the fitting, where together with Katya (studio director) we examined several dresses that I liked and decided what elements will be present in the final version. Namely: a graceful top with a net decorated with beaded jets, embroidered shoulders, a three-layer fitine skirt and a blue silk bottom dress.
Katya not only made me a dream dress, but also completely thought of my image, giving some useful tips. So, she advised me to buy a clutch net and silver shoes for my dress, showing them to me on the site www.asos.com, where I ordered everything safely. Wearing an empty purse would be stupid, and Masha put a live flower in it for me.
Katya also recommended a hair ornament with stones, it not only perfectly complemented the image, but also served as a reference to our mountain theme, by the way, we made it with my sister's own hands.
Katya also dropped the contacts of proven specialists to create hair with makeup. After reviewing their portfolio, I stopped at Catherine Avramenko. I had the opportunity to test the quality of her work on the Love Story shoot, which we had just before we got married in the Vorgol cliffs
And then and on her wedding day, she did a great job!
Council
Do not neglect the ability to shoot Love Story. It's a very useful thing. You will be able to establish contact with a photographer, train in posing, rehearse makeup with hair. Especially since many photographers offer good discounts to their young ones or even include this service in the price of the wedding package.
The costume was ordered from Igor Dorokhov's studio, because in Lesha, two meters tall and in the shops for such men practically nothing happens, in addition, we wanted the costume to be combined with the dress.
Rings
Rings are a separate subject. As I wrote before, it all started with them. I found the idea of the rings with the image of mountain peaks in the works https://ringstudio.ru We thought it would be great to buy something like this, because it's very close to both of us. My sister made a 3d model on a computer, and a jeweler friend implemented it in metal.
It's especially symbolic that our rings were melted from the wedding rings of Leshino's grandparents.
Wedding site
To remove all the questions of the guests regarding our wedding, we created a group in the VK and wedding website. There we placed detailed information about time, place, transfer and other points. In particular, we asked guests to give us books instead of flowers (I don't like to see them wither).
The site was also an invitation, guests noted who would come, answered questions about the transfer and overnight stay.
At the Hedgehogs
Morning went by in a rented cabin at the campus. We had breakfast, packed up and went with the photographer to wander through the nearby forest. Next to the "Jerzy" there was an abandoned camping site, took some picturesque photos.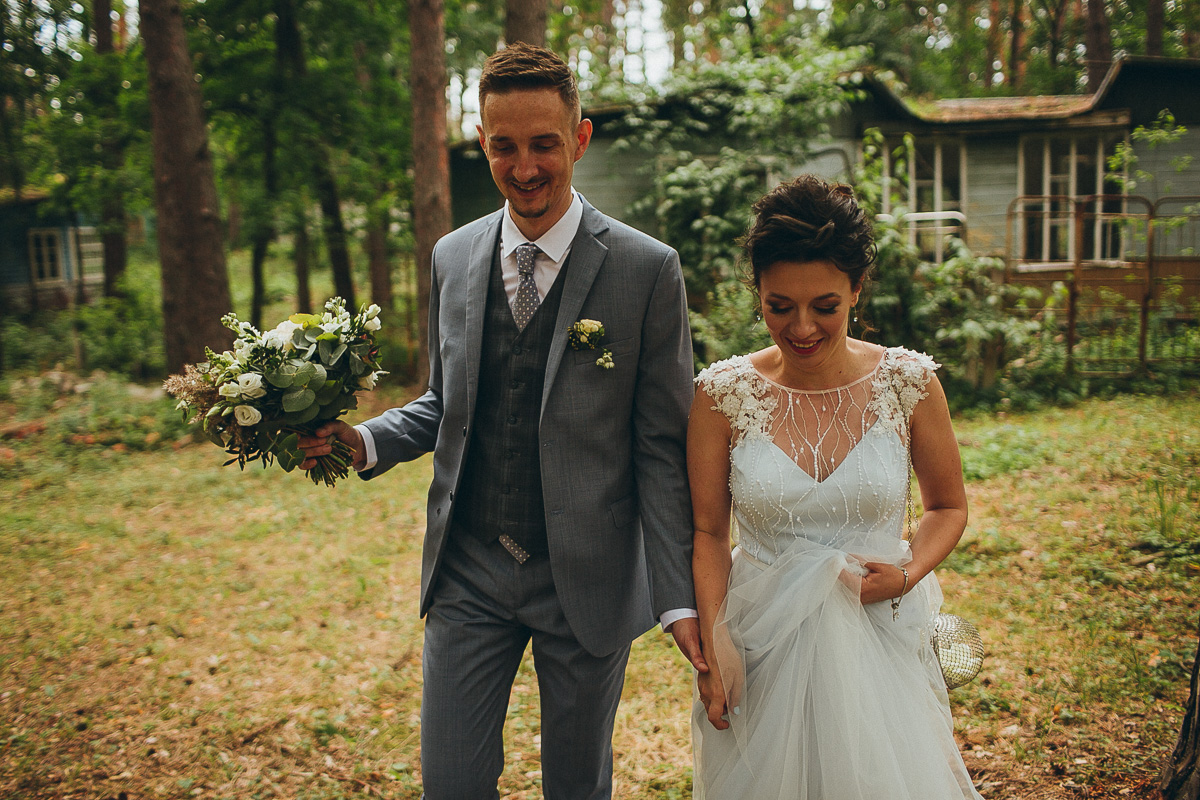 Upon their return, we had a cocktail and started welcoming guests. In this plus weddings in one place – no need to rush somewhere, nervous, constantly check the schedule, everything goes quietly and calmly.
At 4:00 p.m., the ceremony started. Well, what can I say about her, it was very exciting, like most other couples, I guess. Laughter, embarrassment, tears, applause… Anyway, we've experienced a bright kaleidoscope of emotion.
Congratulations were decided to be arranged immediately after registration. The guests, like we asked, gave us books. What's not in our family library anymore: fantasy, recipes, motivating manuals on personal growth and even a textbook on the Belarusian language!
The banquet went well! Denis was a member of our wedding group and studied the profiles of the guests in advance to see which entertainments would be more suitable for our audience.
What touched us most was the very unexpected, long, beautiful and pleasant congratulations from the guests – an ode in verses from my relatives and a story poem poem from Leshina's sister.
The cake from SUGAR bakeshop pleased with its excellent taste. And its finish, which echoes our table's backside, blends in perfectly with the atmosphere!
The tradition of handing over the family hearth was abandoned and reworked a little. Our mothers used their candles to light matches, which we used to light a whole fire, which we had prepared in advance in a stone bowl (it was at the camping site). This campfire had everyone sitting around until morning and talking.
In the evening everyone went outside to listen to the songs performed by Mohave Band, to warm up at the campfire and to dance.
Walk us out with bright Bengali lights.
This day is over, but he'll stay with us forever…