Dennis and Victoria. For good luck!
Свадьба 17 июля 2018
Being a bride, I read a lot of different articles, because I wanted everything to work out! I was especially helped by advice from real people with real problems and situations! Bride, don't worry, everything will be just fine! I really hope that you will be interested in my story! It will only take a little effort and a little effort!
I want to talk about my wedding, tell you important things, point out some nuances and give you ideas that made our day only better! Ready? Let's go!
A few words about our couple
We met 4 years ago at karate training (that's why we decided to insert a piece of karate into the shooting of the lavstory, but about it later). We are active, athletic, loved mobile rest! We love it when everyone is at the highest level! Very picky about the details, we strive to do everything perfectly, in short, perfectionists!
Why did you decide to celebrate your wedding on Tuesday?
The idea seems strange, even stupid to many people. "How so? Many people have to go to work, the wedding should be on Friday or Saturday, why do you do it again as soon as you feel comfortable? So this is our wedding!) Those who wanted to, they canceled the work, canceled all the business and all the birthdays and came to us for the wedding! We do not regret that we made such a decision! That's how this crazy idea at first glance visited our minds!
We first chose the date of 17.07! I played in the football team at number 17, and for my husband – it's a favorite number! Ideal combination!
Then we saw that it was Tuesday, thought: "Why not? As a result, we decided to celebrate on a weekday! And it was one of the best decisions! We were able to save money everywhere, and it was very good to save money! The wedding turned out to be a great one! And one of the reasons – it was on Tuesday!
Tip
Don't be afraid of unusual ideas, create and do as you two want! This is your wedding and your day! No one but you should indicate what and how it will be!
An idea with lottery tickets
We asked all guests to buy regular lottery tickets and give them away at the entrance to the restaurant! Two lottery tickets are good, but 20 are better!))
Preparing for your wedding
Preparation began a year before the wedding! Everything started smoothly and smoothly. Slowly we searched for ideas for the wedding (theme, color, style of the dress, approximate decor, which eventually changed by 100%, because we need to do everything at once: immediately look for a decorator and coordinate all the details with him, otherwise we will waste time on dreams).
After New Year's Eve the guard started! Real preparation for the wedding began: the choice of specialists, a hotel for the bride's morning, the choice of venue and a bunch of other issues that needed to be resolved in the near future, because everything had to be BOOKED TO BOOK!
Council
As I've seen from experience, it's better to start preparing for the wedding a year in advance and immediately book specialists and a place! It is better to wait for this celebration with a calm soul, a little worried, than to run around the saloons, looking for suitable specialists, places and other things!
Choosing a place
Thought about it the longest time! They have already booked specialists, but they couldn't make up their minds about the place! I wanted the registration to be on the pier, I wanted to celebrate the banquet in a spacious, beautiful hall, and also not far from Voronezh.
All these criteria were met by the park-hotel "Taiga". Reasonable prices, good reviews, picturesque places. The road was about 40 minutes. But honestly, the reviews were better. We did not like the service, some alcohol they clearly took away, as the waiters at the end of the evening were very drunk (noticed it all, even on the wedding video there are moments with these waiters), the food was delicious, but the portions are small. The cake was ordered there in Taiga. They mixed up the stuffing, made the wrong ones! The cake itself looked bad, it was thawed and not like in the picture (although the cake is not difficult to decorate)! But all the guests seemed to like it!
Bride's morning: hotel or house/apartment?
There was a lot of debate on this topic! Parents certainly followed the traditional approach and wanted a ransom from home. On the contrary, I wanted a beautiful bride's morning, in beautiful locations, without fuss, without ransom. We came to the following conclusion: I slept in a hotel, there was my morning and yes, there was a small ransom.
Balloons
I ordered the bride's balloons in the morning at the Fairy tale studio! The guys from this studio are professionals in their field! How we chose them:
vivid photos in albums immediately attracted the eye
a huge selection of goods at once with prices for weddings and hen parties (by the way, balloons for hen parties also ordered from them)
have attracted a lot of feedback from more than 200 of them!
Very pleasant communication and attitude to the client! I was told everything, showed options for different budgets, helped with the choice and colors! Nothing was imposed, but only suggested what would be best!
They make sketches! Create a visualization of the balls in a particular place (in my case it was a number in Marriott), thereby showing how it will look! This is very convenient)
they had an early delivery! The courier brought the balloons directly to the room and arranged everything as it should be!
On the photo and video everything looked bright and festive, thanks to the balloons, because they became a cool decor in the room! In addition, we took them with us and put them in the banquet hall (as we were told in the balloon studio not to spend money on the design of the hall), and then took them home, where they pleased us for many days after the celebration! So feel free to order balloons in the studio "Fairy tale"!
Choice of specialists
I would like to thank the entire team of specialists that we have chosen for our wedding! The guys gave their best to 100%, so I would like to thank them very much!
All the specialists, as well as places for photos and video shootings, tried to view on the Internet, especially well it turned out on the site: http://www.svadba-inform.ru All the best is gathered here!
Tip
It is better to meet all the specialists in person, because in the Internet or on someone's advice they write one thing, but in reality it will be quite different.
Coordinator
We've been questioning this man's need for a long time at the wedding. As a result, we agreed that the coordinator was needed so that parents and friends were guests like everyone else, and could relax and have fun at the wedding, rather than being Mr. "I'll solve all the problems". IT WAS A VERY GOOD DECISION!
The person without whom I can't imagine how our wedding would have been, is our coordinator Anna Popova!

She's a real professional! From the very morning till the very late evening she helped in all matters, solved all arising questions, and there were really many of them! I am very glad that she was our assistant on this important day! I felt so comfortable, I wasn't worried about anything, so Anya was always there for me!
Tip
Don't spare money on the coordinator! This is one of the most important specialists at your wedding!
Choosing a photographer and videographer
Choice stories are quite interesting! If you have time to read – read all, if not – see the last paragraph))))
I've known the photographer Maxfor.photo for a long time! There were times when I was in modeling school and took pictures of Max on one of the shoots! When I came to his page for the first time (which was around 2011), I was surprised at the quality of the photos! They were stunning! And already then I wanted him to become a photographer at my wedding!
The story with A`VIDEO STUDIO is a bit different. When I was in the 9th grade, the Institute of Economics (VEPI) decided to make a general graduation for the best 9th graders from all over the city. I was very glad I got there! In general, the whole party was filmed by A`VIDEO STUDIO! We were invited to the Proletarian Film Show. There on the huge screen we watched a film about us, the ninth-graders! It turned out to be a fairy-tale magical film! And at the end of the film there was a screen saver with an owl that I remembered forever! So I was looking for the same owl in search of cameramen!
Video cameramen Anton Bogatchenko and Ivan Dvoryashin from A`VIDEO STUDIO are just a nuclear mixture for quality memories! They have created unreal beauty on the pre-wedding and wedding video, created an unrealistically pleasant atmosphere during the shooting! It was a pleasure to work with them!
p.s Special thanks to Anton for the night shooting from the water (for the sake of a good shot Anton rolled up his pants and almost in total darkness was useful in the water), for the morning jog at 3 o'clock, for the number of shooting days and for the stunningly fascinating location!
Tip
If possible, order an AEROSEMCO! Shooting from a bird's-eye view simply captures the spirit when watching, adds a touch of creativity and creates a fabulous atmosphere! It seems that you watch a full-length film, not just a wedding clip.
The photographer Maxford was expected to do more. Unfortunately, after processing the photos we were a little upset, because the raw photos looked better! In the beginning we didn't find many photos (then we got them), some photos were lit up and the horizon was "full". But still, there were good shots too!
Tip
It is better to send examples of what you would like to see as a result (examples of specific photos, which must be an example video)! After all, each person has its own "beautiful". And what seems clear and understandable to you is that for other people everything can be different.
Do you want to take a pre-wedding picture?
I think what to do, especially if you haven't worked with these specialists yet! Wedding sessions help to find a common language, help to "train" before the wedding, because the photographer and videographer help to find the right angle, position, teach how to behave on camera, and it is very important to get great photos and videos!
We had a pre-wedding shot. These moments are unforgettable! The pros:
A pleasant pastime
we got to know the photographer and videographer better
A great result – the photos and the clip turned out to be incredibly cool!!!
How did I choose a wedding dress?
The budget was small and, of course, did not want to spend most of the money on the dress. But at the same time I dreamed that the dress would look great!
I bought a dress in Nina Sarkisiants' salon! It was the best dress I ever saw!
Tip
Never be afraid to go to expensive salons! Experienced salesmen will always be able to find a dress on your budget!
Reviews about this salon were about this: there are very expensive, dresses are beautiful, but the price is inflated and so on). How did I, with a small budget, get into this salon?
With confidence, I immediately went to the salon to Nina Sarkisyants! Why so? Looking for a dress for the prom, I was exhausted and completely lowered my hands. Going through different salons, looking through the dresses on the Internet, I was tired of searching. But once I found a group of designer dresses in contact. I really liked them! I wrote to Nina Sarkisyants and in response I heard that she only had wedding dresses. I was upset… But a couple of days later she wrote that there were a couple of dresses left that were just right for prom night! When I came to the salon, I was surprised at such beauty and purity! I said right away that if I got married, I would definitely buy a dress here! That's how it happened!
No store has ever been so friendly and attentive to me! The first dress I wore immediately became mine both when I chose the prom dress and the wedding dress!
I am madly glad that I bought my wedding dress from Nina Sarkisyants! The most important event in my life went well, because I was confident in my image by all 200%!
Make and hairstyle
Make and my hair was made for me by Elena Haustova, who collected me for all occasions! This time was no exception! My image lasted until the evening of triumph! She made a real princess out of me!
But there's something that really upset me. Unfortunately, Lena was 30 minutes late in the morning because of the rain, which delayed my morning training camp.
Council
Make an appointment with a stylist earlier. It's better to get up early to have at least 30-40 minutes to spare!
Manicure choice
I've been using the following criteria:
Location (I don't like to waste time on the road)
real works (they were excellent, I saw the result before and after in the photo)
the price (it was average in Voronezh)
My mints have made me happy for over a month! Thank you dear Olechka Arsenkova!
A snack at the wedding
Girlfriends and friends + photographers, cameramen and the coordinator were with us in the morning, and the banquet was scheduled for 5 pm! So we decided to have an organized snack!
In order not to make sandwiches, snacks and slices, we ordered complex lunches at the Marriott Hotel! Nourishing, fast and inexpensive!
Tips
For a snack I recommend ordering meals!
Departure ceremony
We decided to make it beautiful and so we chose the check-in, with the ceremonial director, outdoors. In the morning we went to the registration office (only friends and parents were with us), signed, and then went to all the guests to a beautiful pier in the park-hotel "Taiga"!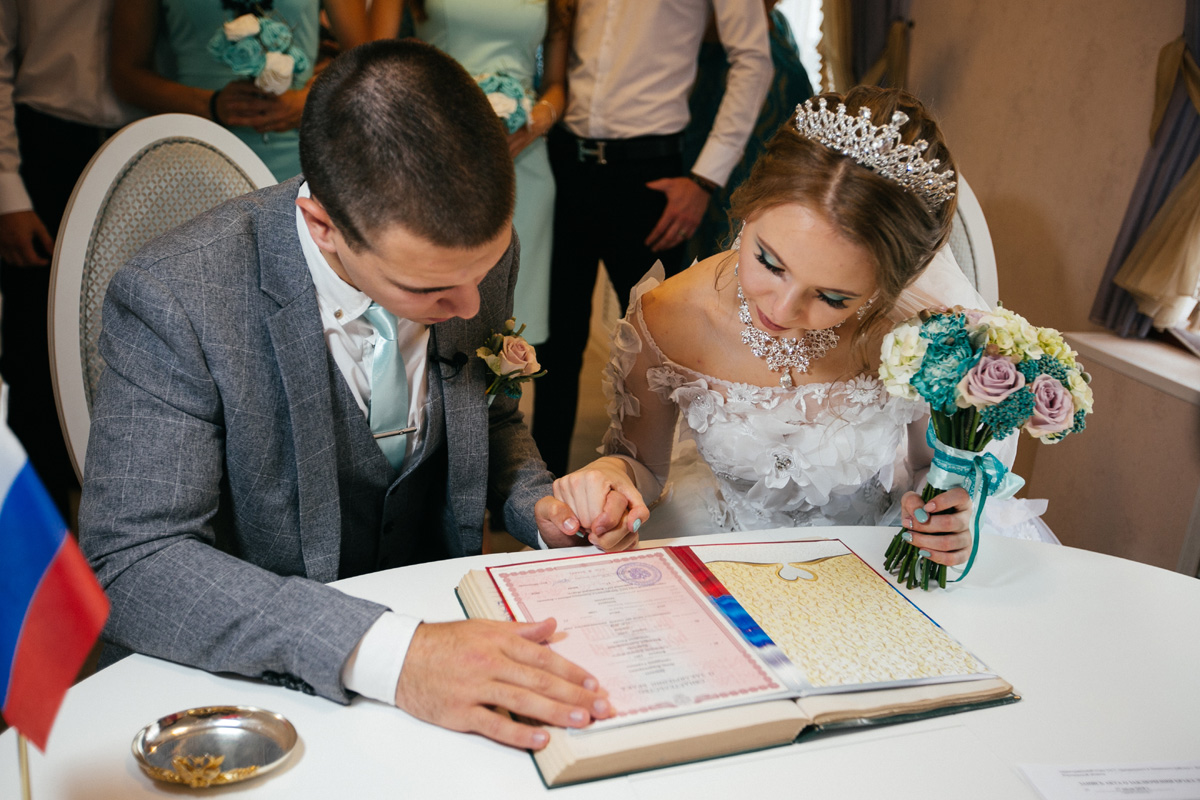 How we chose the master's ceremonies
Of course, the search was on the Internet. Basically, my husband and I watched photos if we liked the person outwardly, watched videos with him (we also cared about the voice), and then cheated and talked to each other!
Tip
If you don't like something in the master ceremonies, it's better to look for more! The closer you get to the wedding, the more you experience it! And this disadvantage will only depress!
We decided to stop at Female Rudman. She is, in our opinion, the best away registrar! The ceremony turned out to be very sincere, cozy, cozy and, most importantly, very emotional!
The groom was so touched by her story at the beginning of the story, so cool was the registration until the very end! Everyone cried! I have never heard more touching words in my life! She fulfilled her function at all 200%. I am so glad that I chose her! This ceremony will always remain in my memory!
Rain at the wedding
I was very worried and I didn't want it to rain at our wedding! I've been watching the weather for another year, checking very often! And for a week I will know that a storm is planned… Experiences, tears… "How is the rain? In the end, my husband reassured me that the rain was lucky at all! I had hoped until the last moment that it wouldn't rain, but the weather forecasters were not mistaken this time!
There wasn't a thunderstorm on the balcony at the Marriott Hotel, we even managed to shoot a piece of video with water droplets! It was very unusual and cute!
Unfortunately, we couldn't go for a walk, but we wouldn't have had enough time for that, so it all happened the way it should be!
We reached the registry office with umbrellas. When we arrived in Taiga, there was a "miracle"! The rain stopped! It wasn't there for an hour (just when we had the ceremony)! As soon as we entered the hall, a hurricane, thunder, lightning, downpour began. It was a real miracle!
The decor
As I wrote above, we've been thinking about the decor for another year. But we made a mistake! The whole decor needs to be discussed with specialists at once, not to draw unrealistic dreams, to spend a lot of time on it and finally, to be upset about it all!
Tip
Discuss the decor directly with the selected specialist! He will tell you what ideas you can implement and what will be superfluous.
What an incredible beauty they created on this day! I still admire it! The drawn sketches were exactly brought to reality (although it turned out even cooler)! The color palette was super cool! Everything combined perfectly! And this idea with live fish on the tables is just a bomb! As our presenter said: "These aren't flowerbeds on the tables we used to see"))) The idea was to put the aquariums on the tables, put the number of tables on the aquariums, and run live fish inside!
Unusual, creative, with soul and attention to every detail! Everything as we love!
p.s. Special thanks to Julia for all the delicious things she treated us to at each of our meetings!
Style and color
The style of our wedding was rustic, the color palette was mint colors and shades!
We decided on the color at once (mint is my favorite color), but the decorators helped with the style.
The presenter
Our presenter, our lighter for the evening, and just a tough guy, Sasha Ananyev! When my future husband and I saw him on the Internet, we immediately realized that this is our man! After a real meeting we were 100% sure of it.
The Council
It is better to discuss with the presenter at once how you see your evening, what jokes and contests should not be, and what, on the contrary, is an integral part of (for example, some traditions).
Children at weddings
If there are more than two kids at a wedding, they'll have to do something!
Specialists told us that it is better to hire an animator!
But we decided not to spend money (and it cost only 3000-5000 rubles) and just asked decorators to buy coloring and games. And it was a bad decision! Now I will describe the problem!
We put the children at a separate table, so that both parents and children could rest!
The kids had their own menu (we took the complex dinners; thus, we saved some money). Naturally, even the salad and hotter they couldn't handle! That's why the idea of having lunch was great!
Tip
It is better to make a separate table for kids, but still near the parents, so that children do not run through the room! Do not order children a full table of various meals, as for adults! Salad and second + sweets will be enough for them!
And that's why you need an animator!
After a couple of hours after the start of the banquet, the children were no longer interested in it! They ran all over the room, played, laughed loudly and shouted when there were touching notes at the wedding. It was very unpleasant! That's why the advice is like this:
Tip
Be sure to order an animator if there are more than two children!
Epilogue
Our party was a success! It was more than just cool! Emotions remained just unrealistic! It feels like it was all somewhere in the fairy tale!