Oysters and lobsters are bad! Simple dishes, too! Uncle Koli from Cheboksary is allergic to chocolate, groom's friend Vitya is a vegan and bride's friend Yulia is a diabetic. Aunt Paradise is always wrong, and the guests from Israel are for halal! How to make a banquet menu and not go crazy?
<lang="en">
In the DNA of Russian wedding is laid to have gaps on the banquet tables: there should be a lot of dishes, and the table is broken from a variety of delicious treats! The classical timed banquet lasts 6 hours. When money is short, it's a good thing that weddings aren't celebrated for weeks!
But even in these six hours, you have to please all the guests and not leave anyone hungry. How do you do all this?
Approve the exact list of guests and conduct a mini-survey for them
To know how many guests to visit, get confirmation of your arrival from all the guests. All those who will, send a mini-questionnaire:
What foods are you allergic to?

Which meal is best for you: fish or meat?

You: vegetarian, fasting, diabetic, gluten-free, kosher, none of the above – choose one!


What kind of alcohol do you prefer?
Having received the data from the guests, you can distribute (and at first be surprised that Baba Masha became a vegetarian in her old age!) guests by gastronomic peculiarities and seat them at certain tables. For example, for diabetics there will be a separate table with a separate menu, which will not be a lot of simple carbohydrates that quickly raise blood sugar levels, but a lot of vegetables, fruits, rabbit, beef or turkey, and sweets – not chocolate cakes and cakes, and jelly and pudding desserts or sweets with a sugar substitute. That's the way it is with every group of guests.
As for alcohol! If the budget allows, it will be ideal to take into account the preferences of each guest: martini to henassie! But if the finances are not rubber, as Moscow is for newcomers, then the opinion of the majority will have to be taken into account.
Usually there are 2-3 kinds of strong drinks – vodka cognac, whiskey, and as many kinds of medium alcoholic drinks – wine (white/red), champagne.
In three clicks to calculate
how much alcohol will be needed for the wedding banquet will help the service from Prosvadbu.ru – the calculator of alcohol for the wedding online
At any time you can make adjustments to your alcohol budget, count and even send it to your fiancé or contractors if necessary. Comfortable and easy to handle! Try it!
Ksenia Shinkarenko
, manager of the Sweet Wedding agency, St. Petersburg

5 Lifehachs in the banquet menu

1. Don't experiment with the menu! Order familiar and understandable dishes for yourself and your guests. And if you still want to experiment, then first taste the dish yourself and decide whether it will "come" at the wedding or not.

2. The menu for the children's table should be coordinated with their parents in advance.

3. The most popular salads at the wedding are olivier and caesar.

4. When planning the menu, be guided by the norm of 1-1.5 kg of food and 2 liters of soft drinks for each guest.

5. Vegetable salads with leaves and tomatoes should be replaced with a slice: it looks more aesthetic and will not lose its appearance until the evening.
Banquet Numerology: how much and what should be on the table
Hot offer: there must be 2 types of hot, usually it is ordered in portions (200 grams per guest), meat or fish in a ratio of 50 / 40 percent – practice shows that meat lovers more! : ). In summer, the meat is replaced by poultry. It is necessary to provide two or three kinds of garnish on 100-150 gr. on the person.
What about salads? The optimal number of salads on the banquet is at least three. Meat (also chicken or ham), fish (or seafood) and some more poetic, for example, with tongue and walnuts. Such a variety of tastes will be easier to "get" in each guest. It is impossible not to love everything in the world (no meat, no fish, no mushrooms or vegetables)!
Taste harmony! Make sure that all tastes are present at the banquet tables: salty, marinated, sweet, spicy, spicy, sour… Everybody has different tastes, someone will not seem spicy enough to eat meat, and his roommate will have a dish with tears in his eyes, because it is too pepper over his eyes!
Ksenia Shinkarenko
, manager of the Sweet Wedding agency, St. Petersburg

Approximate number of positions on the wedding banquet

5-7 cold snacks

3-5 types of hot snacks

2 types of juices, 2 types of morses and lemonades, water with and without gases

2-3 hot meals to choose from

No more than 2-3 kinds of strong alcoholic beverages

Bread, fruit, sweets
What you don't have to do when you make a banquet menu
Do not include many dishes with the same ingredient(s) in the menu. If salad and appetizers are fish, then think about whether the guests want to see something hot from the fish?) Bingo! Remember, in addition to fish and pork, there are other seafood, as well as beef, lamb and poultry.
Don't make guests participate in your gastronomic Bacchanalia. If you like blood meat, raw fish snacks, raw oysters, bull eggs, mega-spicy sauces and other delights, your guests may not like it, and your royal memories they will not appreciate, and simply remain hungry, read evil!
Don't serve meals that require special eating skills. Lobsters, lobsters, snails, crayfish, artichokes, oysters again – inexperienced eaters of delicacies will not cope with the devices and just refuse to eat all these delicacies. Or worse, they'll pick a snail with their hands or point a fork at a poor oyster!
Open food service: for those who couldn't make up their minds…
If after a mini-questioning of the guests about their taste preferences you will realize that it is torture to make one common menu for everyone, then go to the following step: choose a restaurant that can prepare main dishes right on the banquet, for the choice of guests. To do this, also prepare a menu card for each guest, where they can choose their own dish to taste. But: to limit their imagination in advance, come up with 3-5 different dishes, consult with the administrator of the restaurant, in their practice there should be such cases. And while the guests will eat appetizers and salads, chefs will cook their desired hot meal for everyone.
2 Lifehaca and 1 brilliant idea for a banquet
Lifehaq #1: Be sure to consider the season! In the warm season there should be more fruits and vegetables and soft drinks on the table. If the cake is light, mousse, if the bar is a lemonade bar, fruit, ice cream bar and the like. In the cold season, on the contrary, everything should be warm, nourishing, dense. Cake is sponge cake with nuts and chocolate. A bar with mulled wine or hot chocolate, meat or cheese..
Lifehaq #2: At a multinational wedding or just a wedding where there will be a lot of guests from a particular nation, it would be nice to prepare a couple of dishes from their culture's kitchen. Many guests from Kazan? Let's have pilaf on the menu banquet. And so on with the same principle!
There's a brilliant idea! Stably, at all weddings guests can taste tea and coffee only at the end of the day, when the newlyweds cut the wedding cake. What if they want hot tea in the middle of a banquet? You can't imagine how many people would say "Thank you" for a separate table with tea and coffee!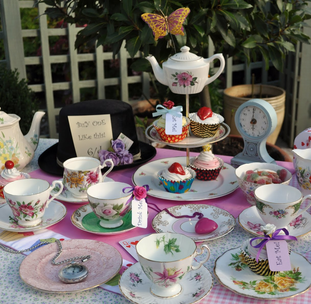 As you can see, it's not easy to make such a banquet menu so that all the guests leave full and satisfied – it's not easy! But we assure you it's worth it. Perhaps your care for everyone present will touch the hearts of the guests so much that they will report in their gift envelope for newlyweds a couple of bills with the image of Khabarovsk! 🙂
Photo in the article: Pinterest / Author of the article: Elena Yushina
</lang="en">